Challenge

Bring to life a festival which values the community and spreads ownership of the experience for all concert-goers.
Solution

A music festival that runs on volunteers and is devoted to the pillars of music, community, and skill-sharing.
Length of project

1.5 months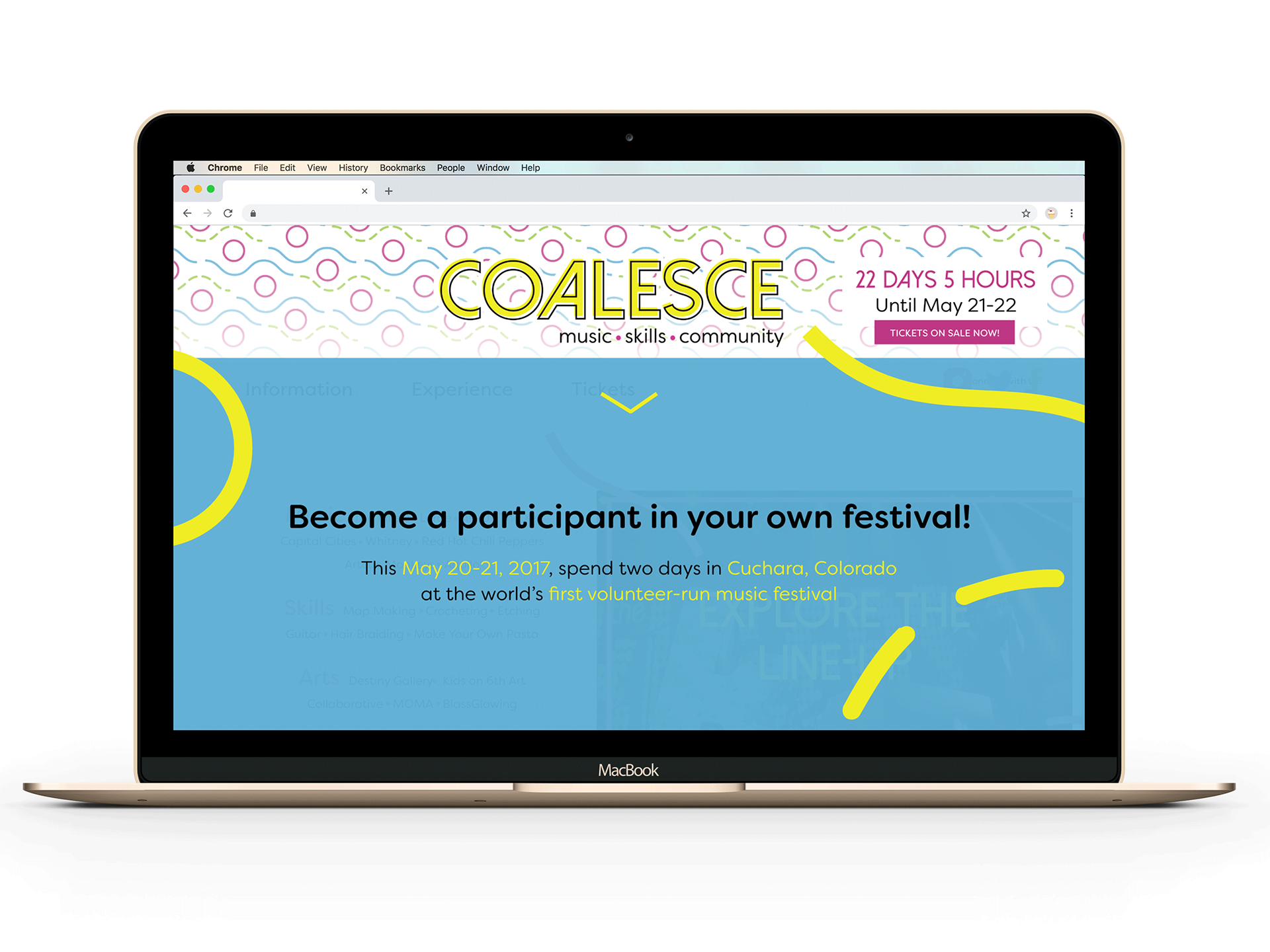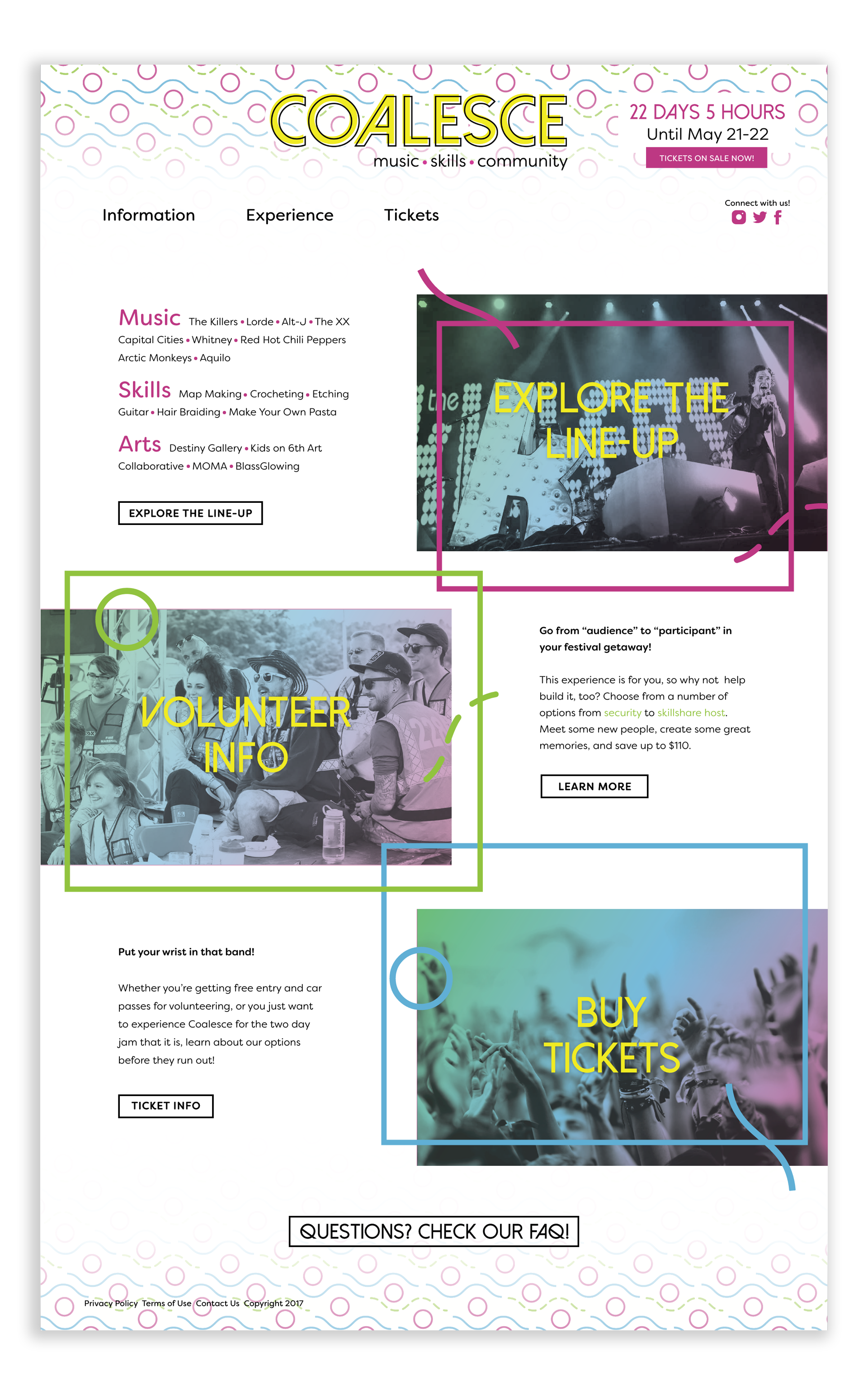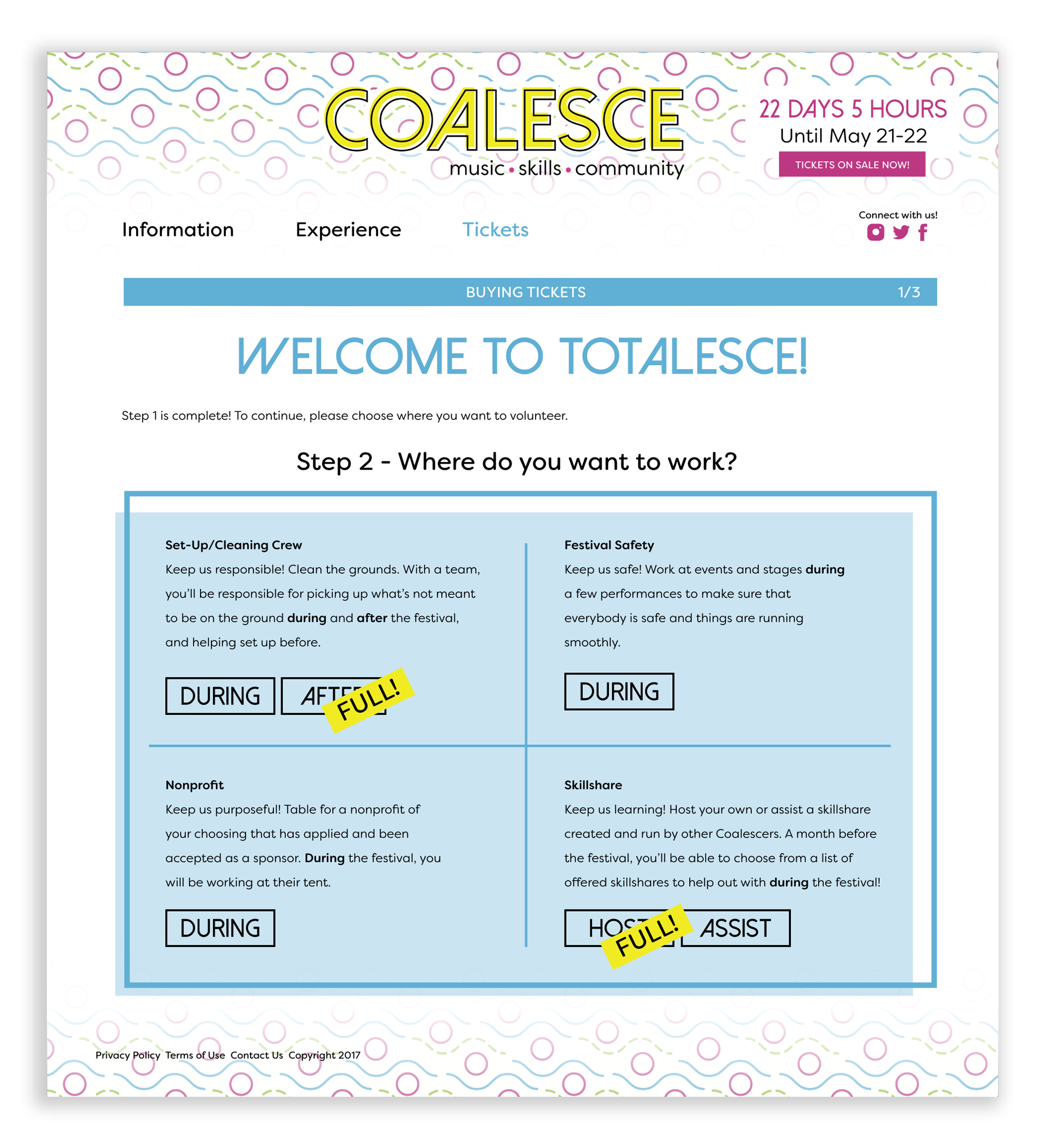 ____________________________
I have always loved music festivals, everything from the presentation to the experience. So when my branding class introduced its final project where we would create a brand from scratch and work to create its identity, I knew I wanted to work with a music festival. As I embarked on this mission, I focused a lot on what people value in their festival experiences, and where there seems to be a gap in the competition.
I found that although there are plenty of music festivals available, but most are expensive and one-sided (festival-goer = audience member).

I wanted to fill the gap of a low cost and/or free festival that puts a lot of emphasis on collaboration.
​​​​​​​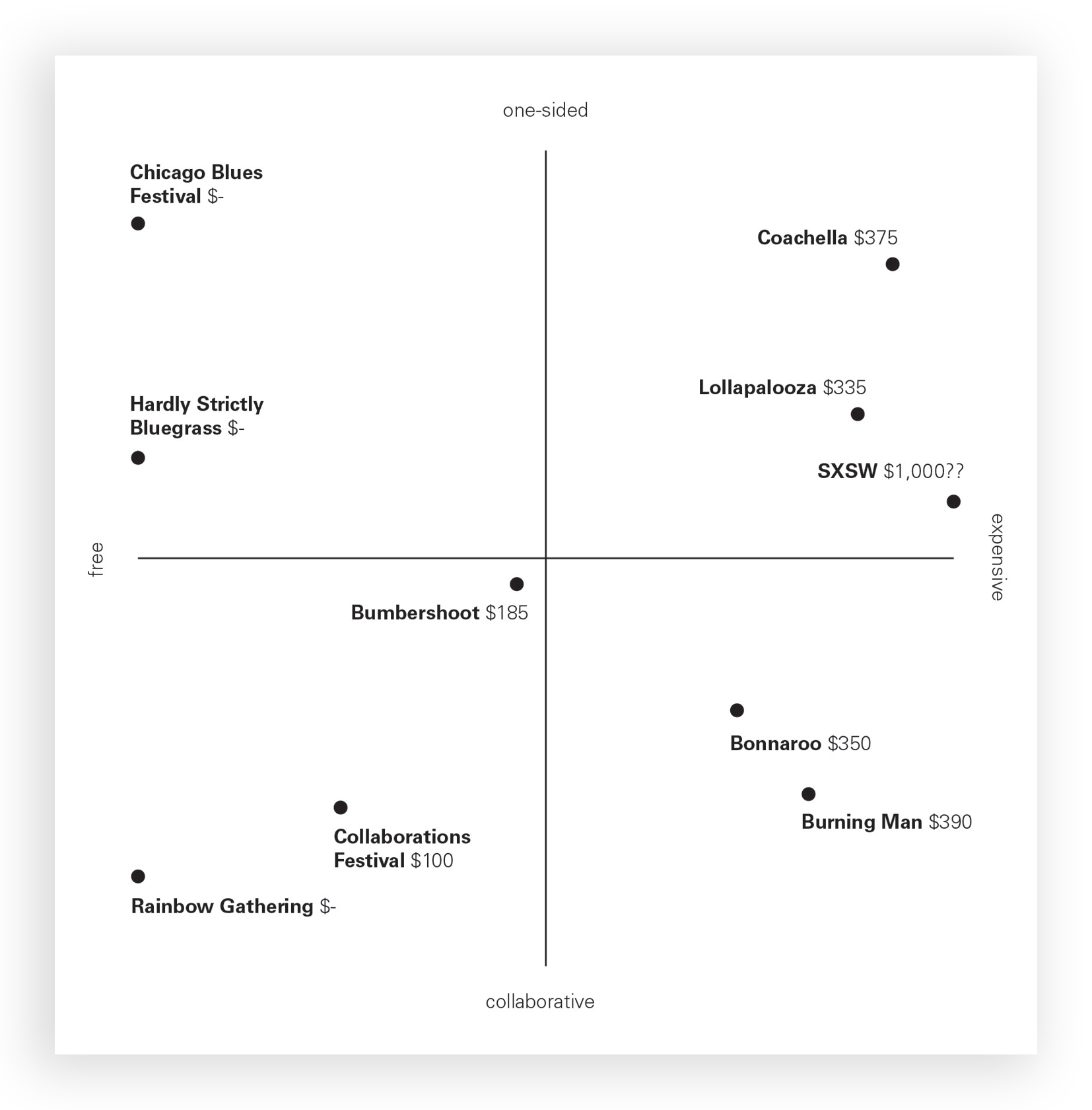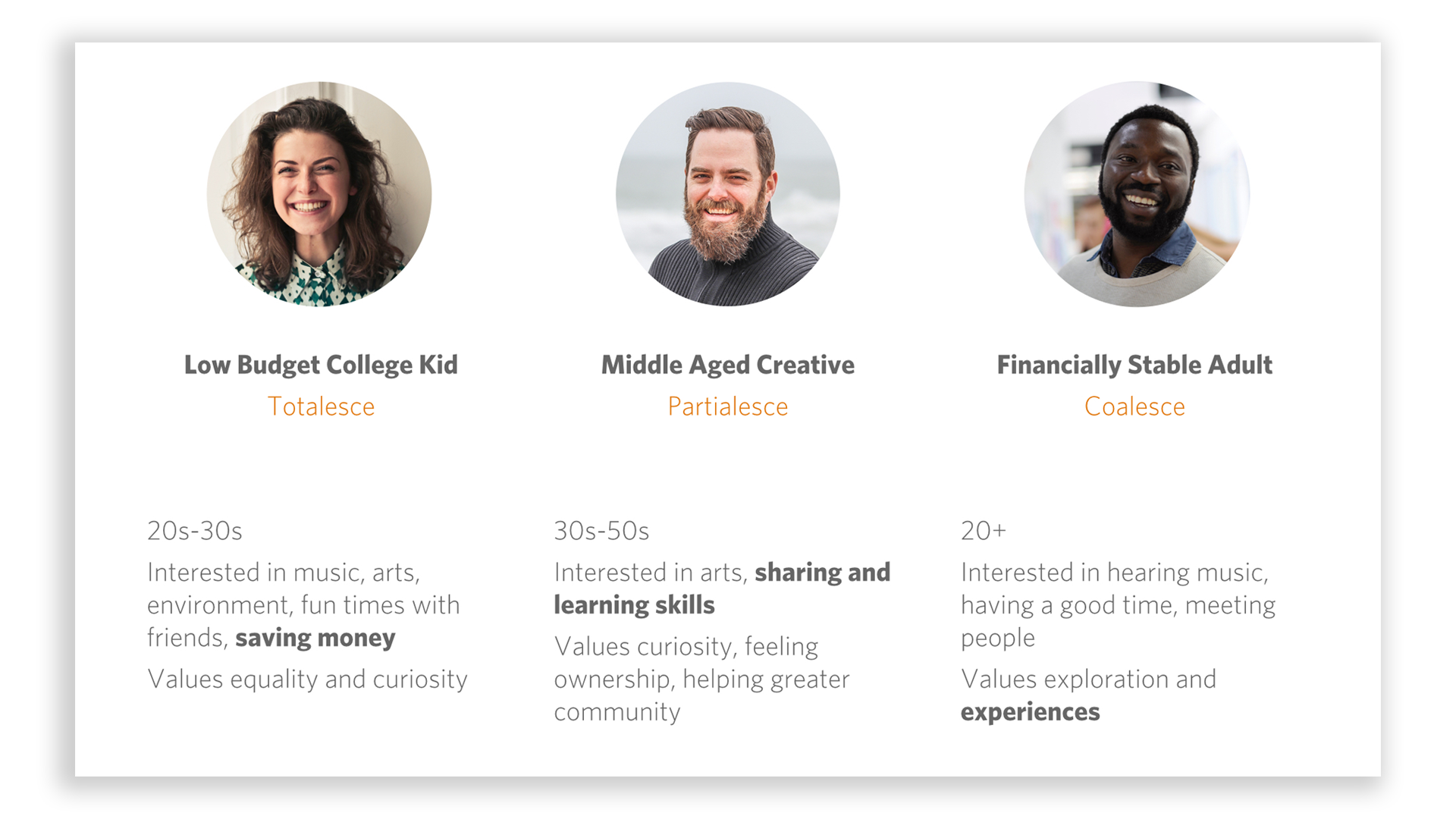 In the presentation below, I pitched Coalesce, a music, skills, and arts festival that works to change the role of a festival-goer from audience member to participant which would give back to a greater community and spread ownership of the festival experience to the festival-goers. This festival would be majority run by volunteers who could work cleaning crew, volunteer for tabling for a non-profit, or host or assist a skillshare. Festival-goers could choose between three levels of involvement, based on the three personas listed above, that range from paying full price and volunteering 0 hours, to getting in for free and working 14 hours.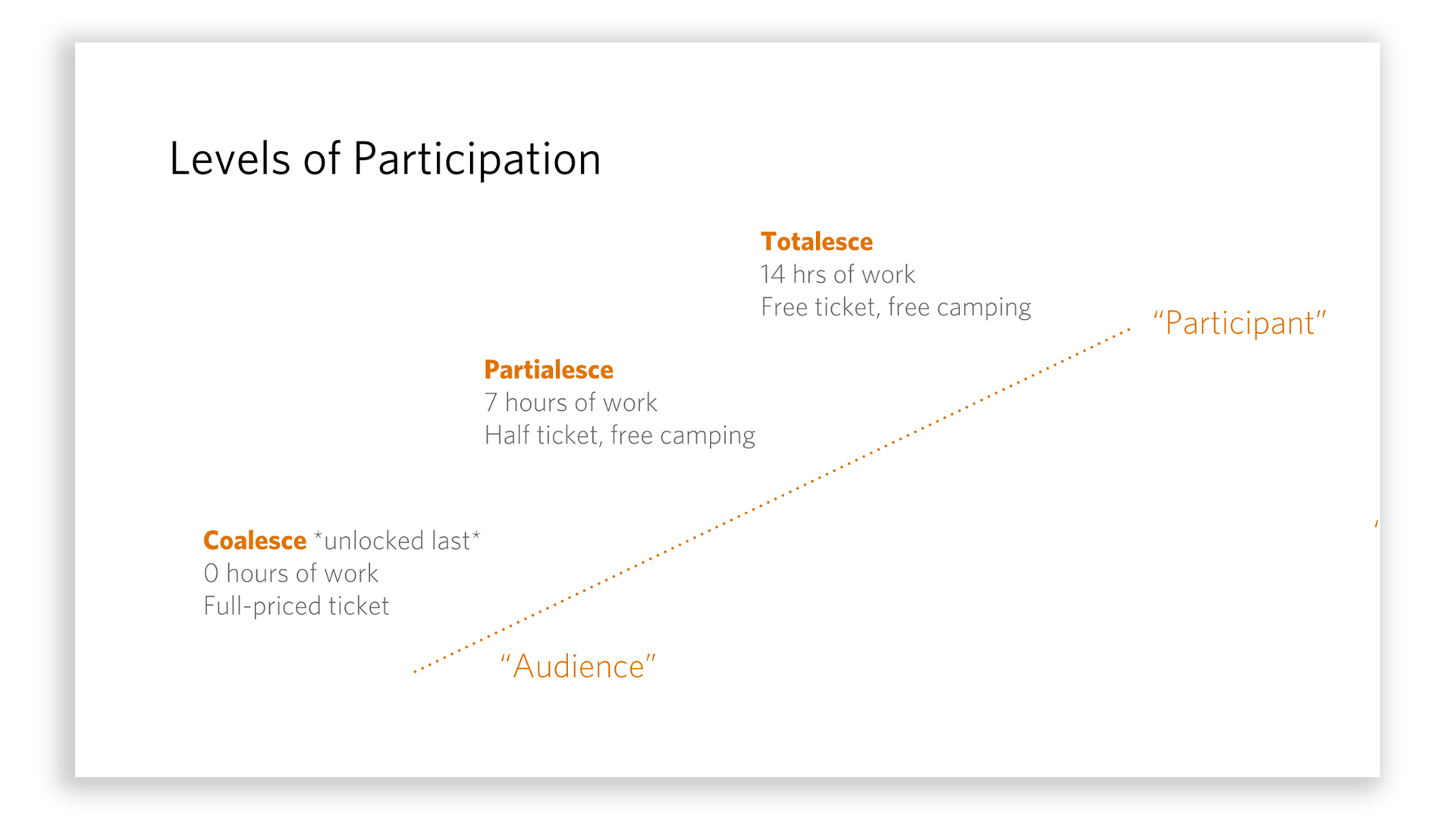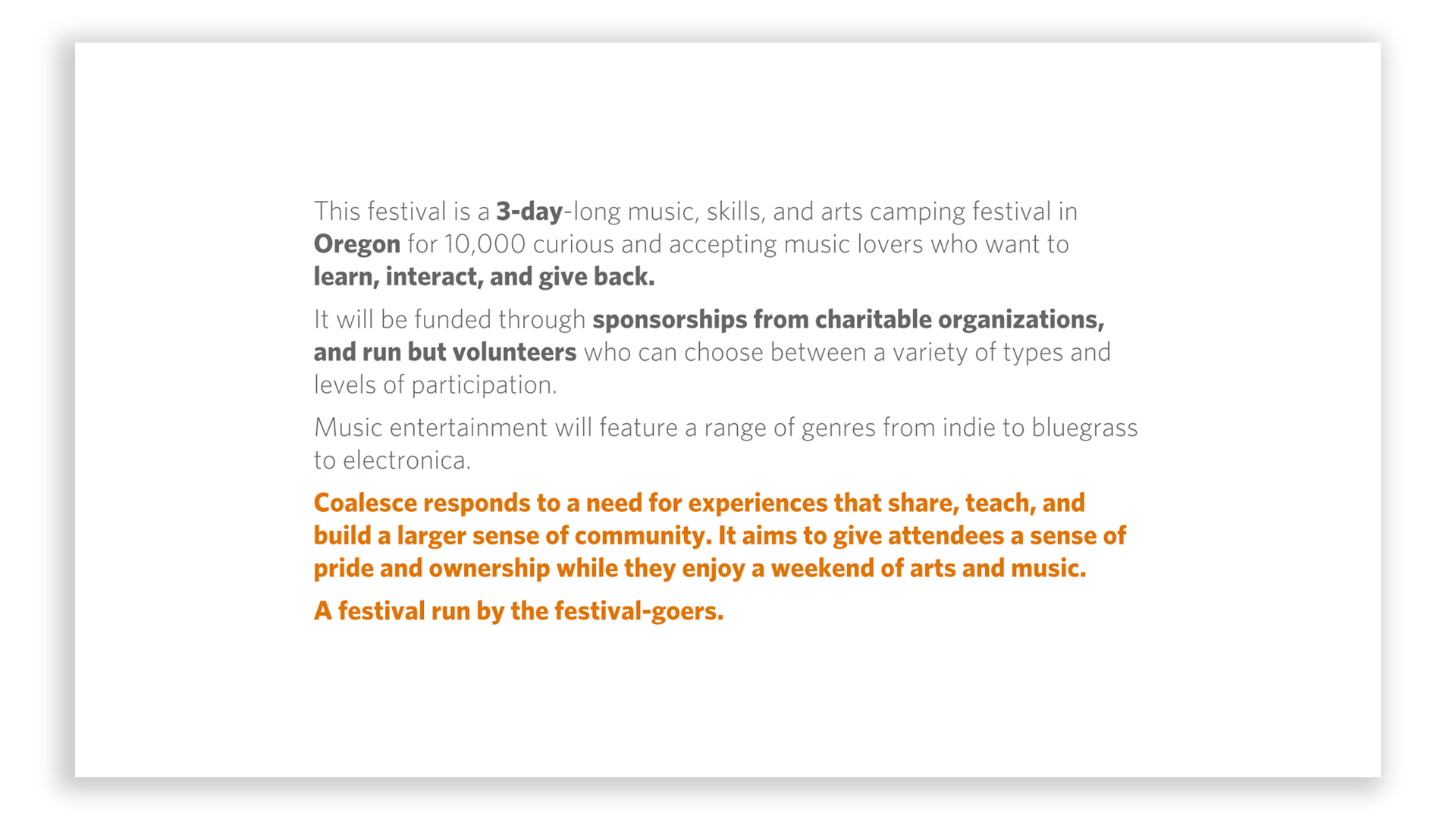 Focusing on the three pillars of music, skill-sharing, and community, I am forming a logo for the festival. At its heart, a festival is still meant to be loud, fun, and exciting. For that reason I am using neon blues, greens, pinks, and yellows for the color palette, and an offset stroke to embody the vibrance that I want the event to have. The typefaces I used were Dolce Vita, which has a stylish, modern, exciting look, and Filson Soft, which in contrast is comforting and inviting.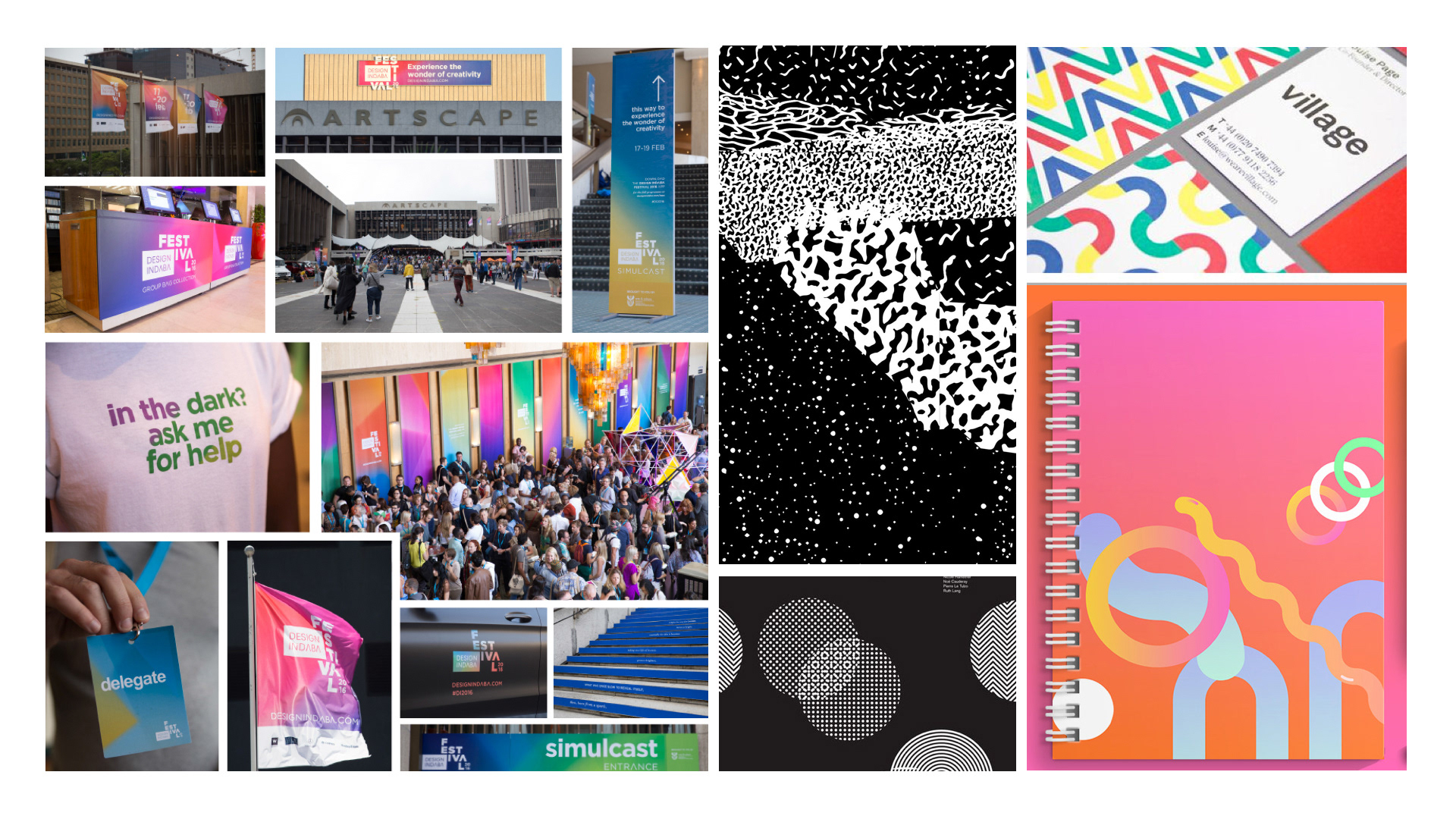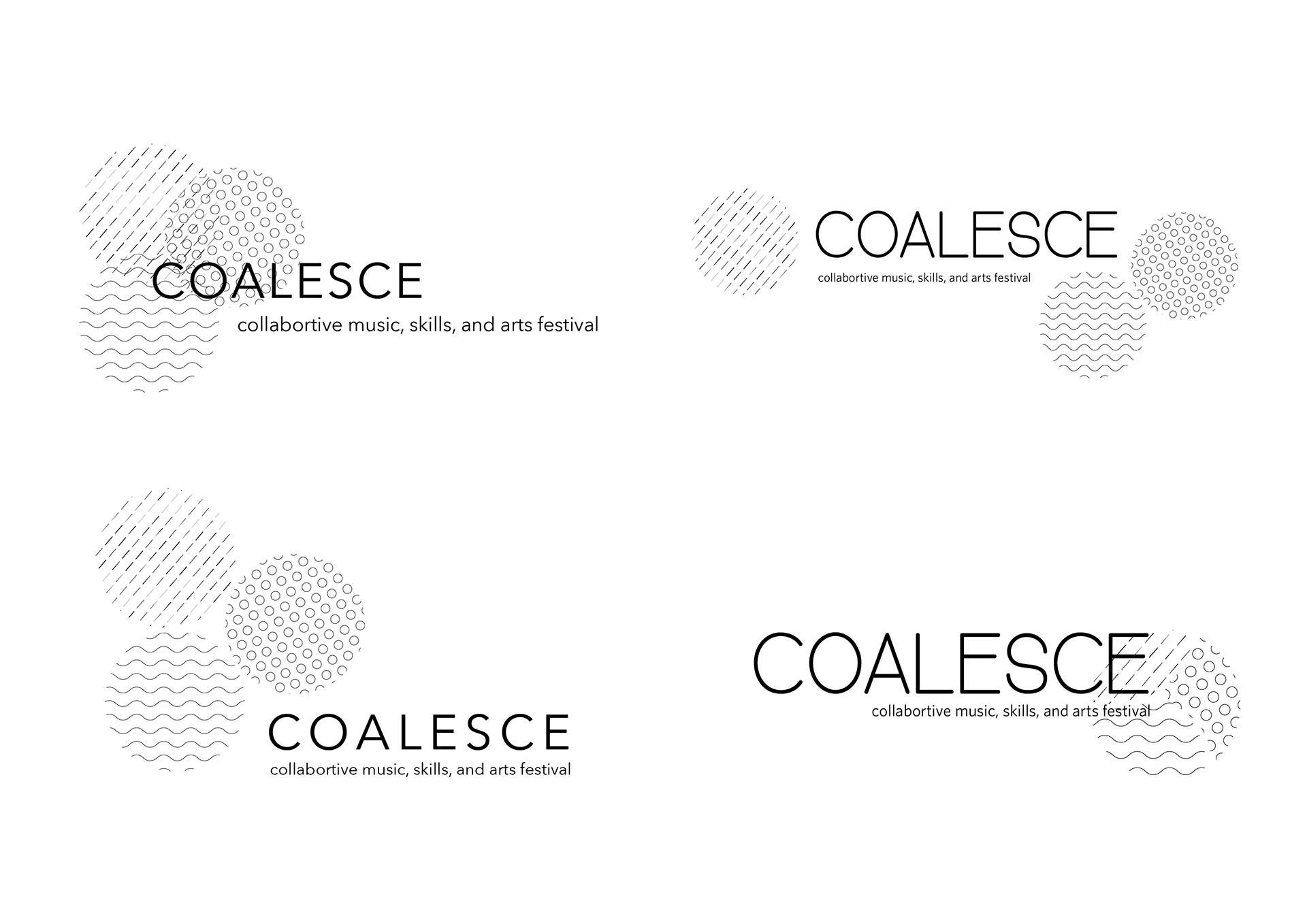 I decided to create a pattern which signifies the coming together of the three pillars mentioned above. In order to have the pattern flow smoothly, I changed the graphic shapes to be more similar to each other, and created three more iterations of the logo.
Final Logos: Large and Small Scales  ↓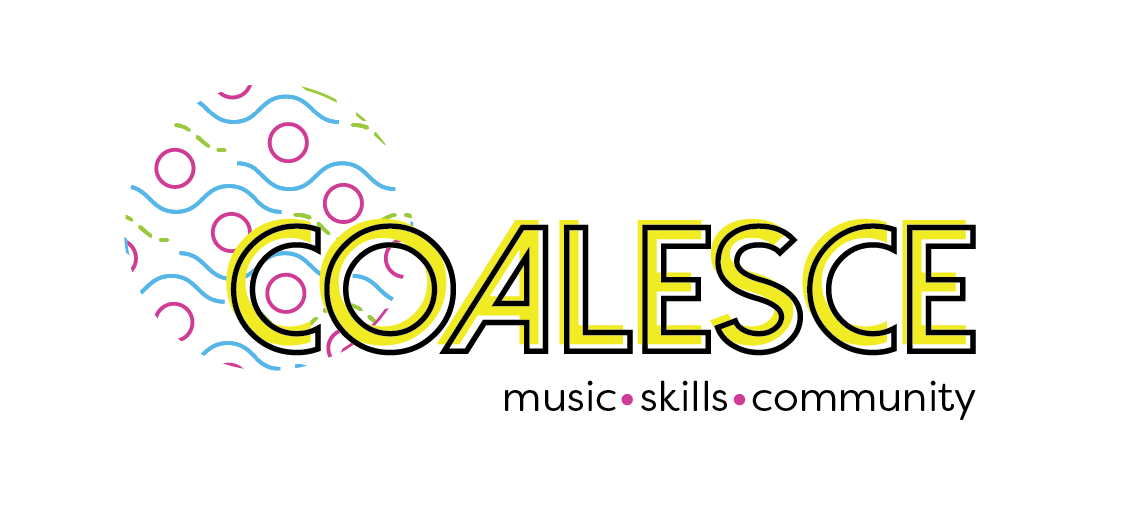 In terms of ticket collateral, I felt that a wristband is a great way to promote a sense of community between members of the festival, and RIFD technology seems to be the most efficient among festivals todays. Using the proposed logo designs, I began creating wristband designs for the three levels of festival involvement, focusing on a variable that I can use to signify a different level between color, pattern, or both.
To really push the idea of interaction and collaboration, I also want to create an interactive aspect between the wristband -- an element that hangs on to or ties around a wristband that a festival-goer would want to trade and collect throughout the event.
Wristband Sketches  ↓​​​​​​​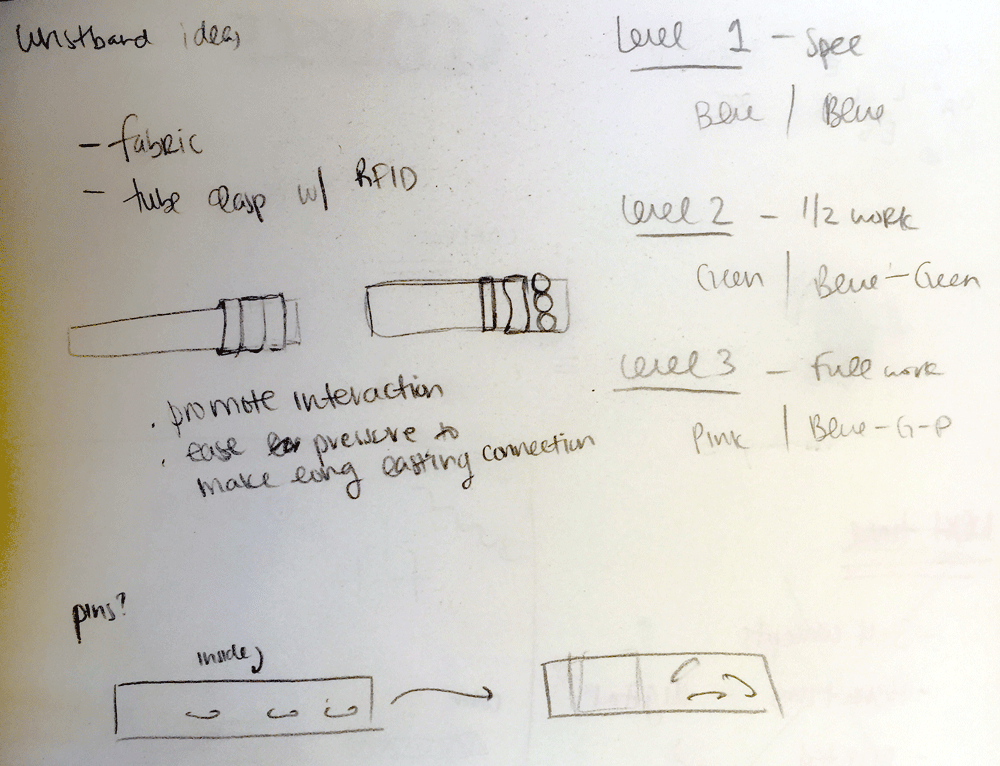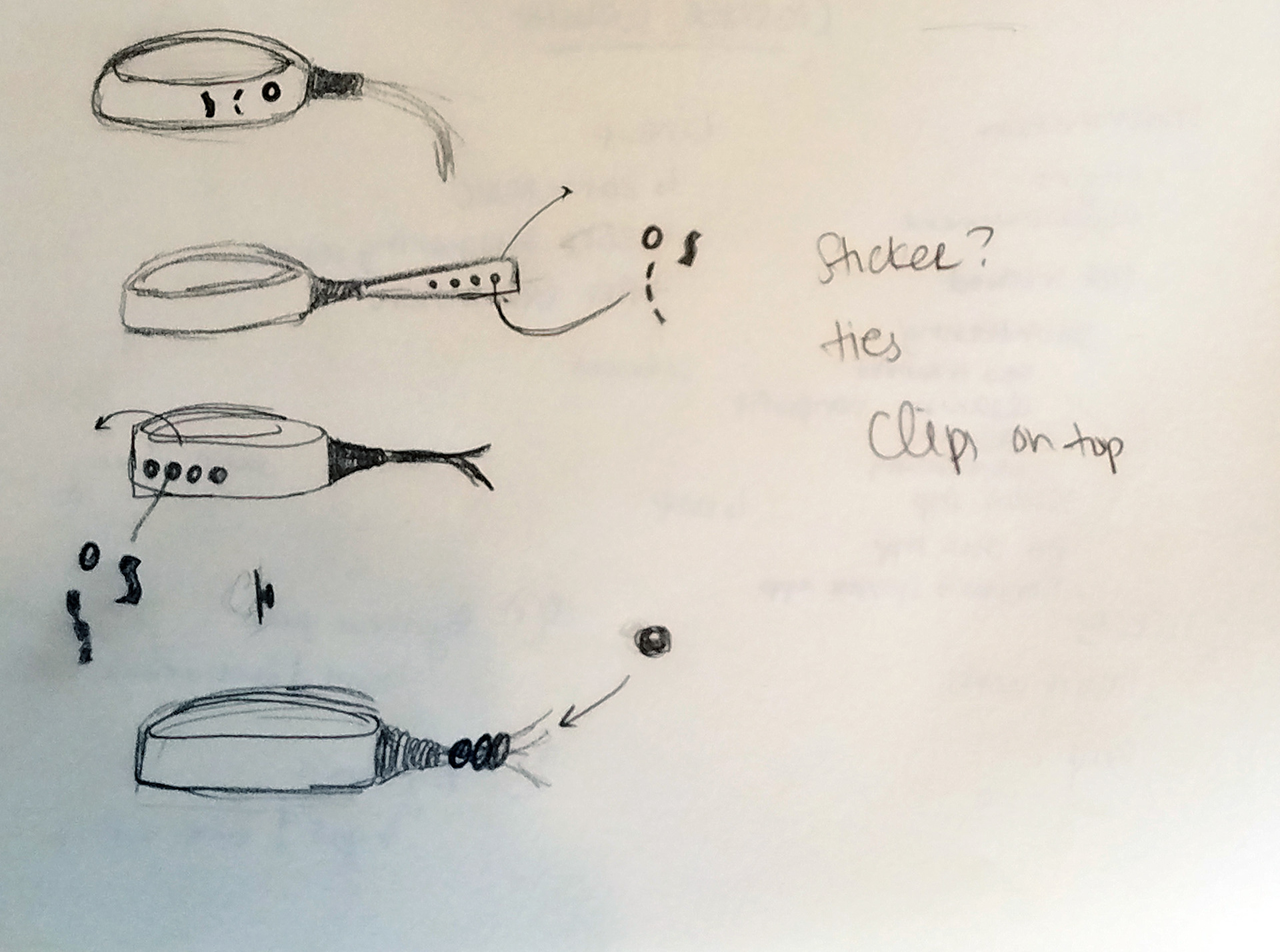 Wristband Drafts  ↓​​​​​​​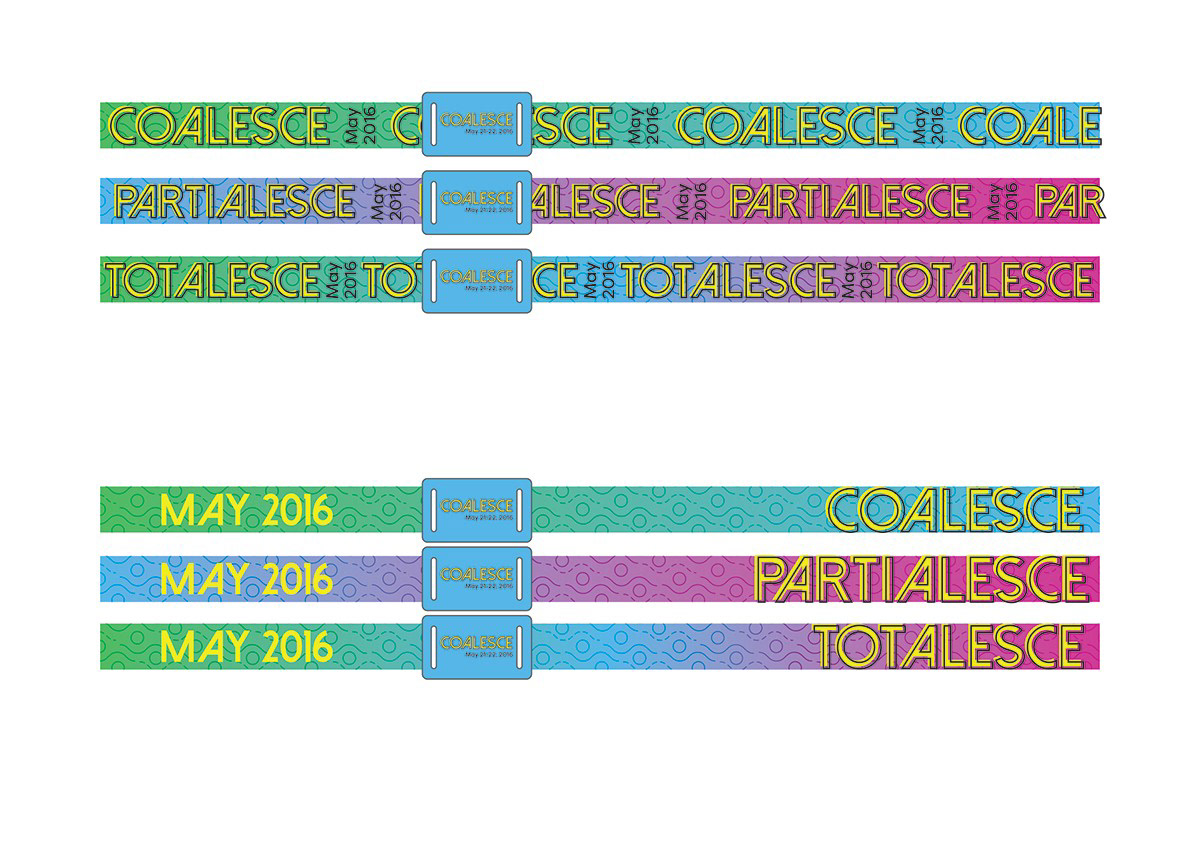 Final Wristband Design  ↓​​​​​​​

Designing the Website: architecture
I researched a number of existing festival websites such as Coachella, Lollapalooza, and Bonnaroo and from that created site architecture for my own, which I tested on a number of potential users, making changes along the way.
Information Architecture: 1st Draft  ↓​​​​​​​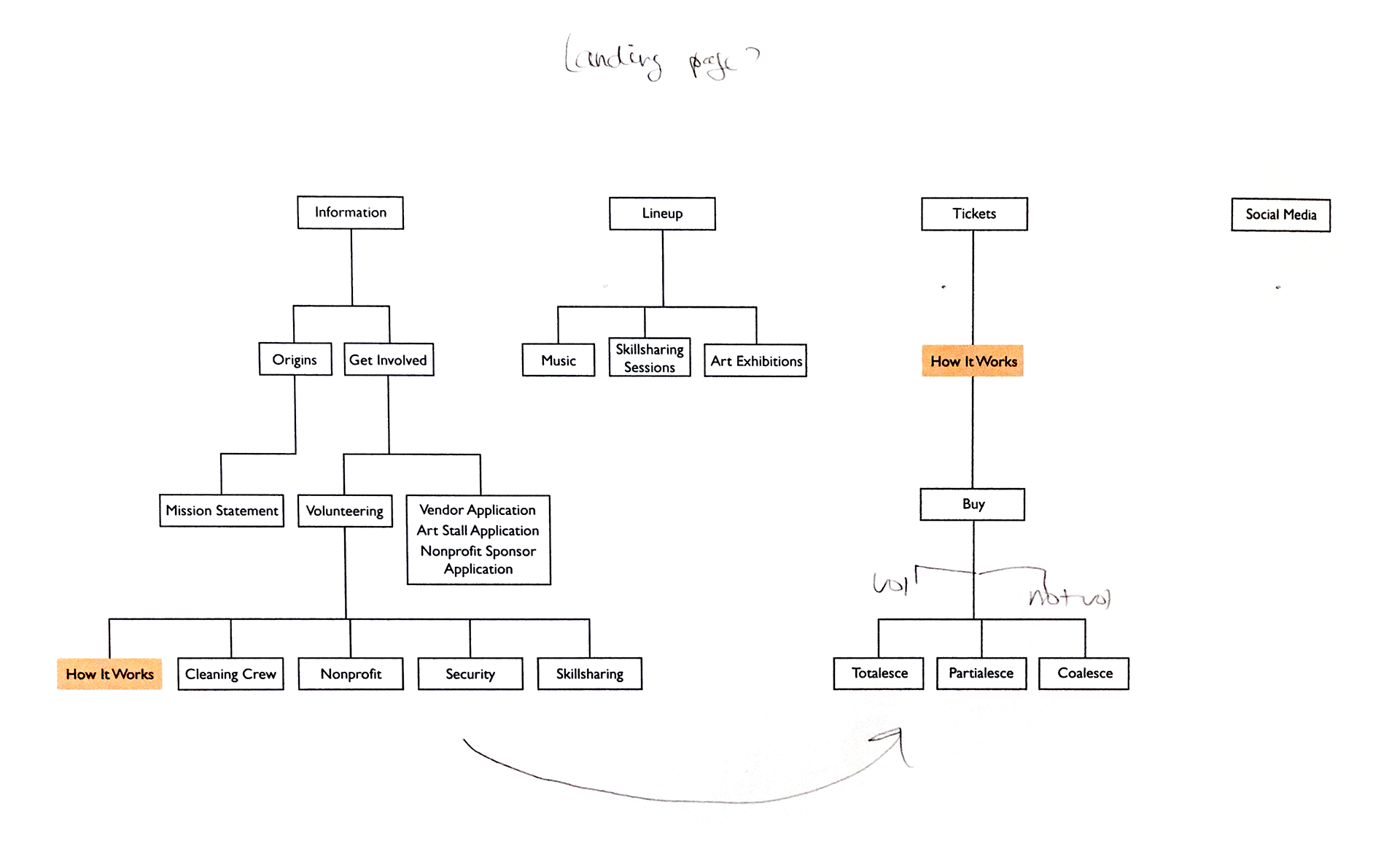 I. A landing page for easy and clear information dispersion
II. Consolidated volunteering sign ups into the ticketing process
Information Architecture: Final  

↓​​​​​​​
After a number of user testing and iterations on the architecture, I continued onto making wireframes. Similarly, I tested these wireframes, gathered a number of insights, and am going to be making changes based on what would make the experience more efficient for the curious festival-goer. I found that presenting the volunteer information in a grid or a list is most effective, but the ticketing experience needed work.
One suggestion was to make sure to have volunteer information presented under "Information" as well as "Tickets" for the people who wanted to learn more but felt hesitant to begin the ticket buying process, and maybe further sectioning off with the use of tabs or pop ups once at the ticketing page.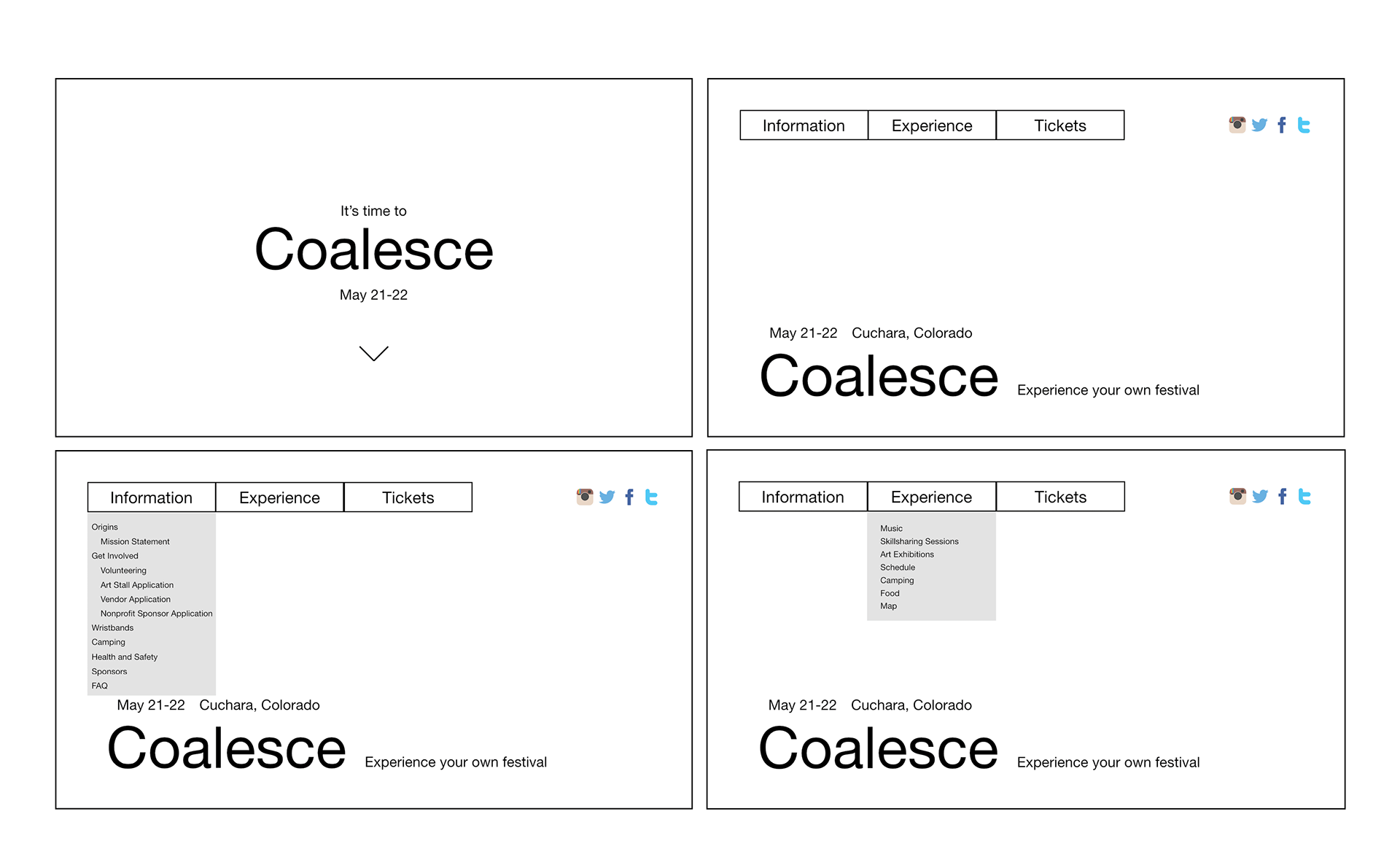 Information  ↓​​​​​​​​​​​​​​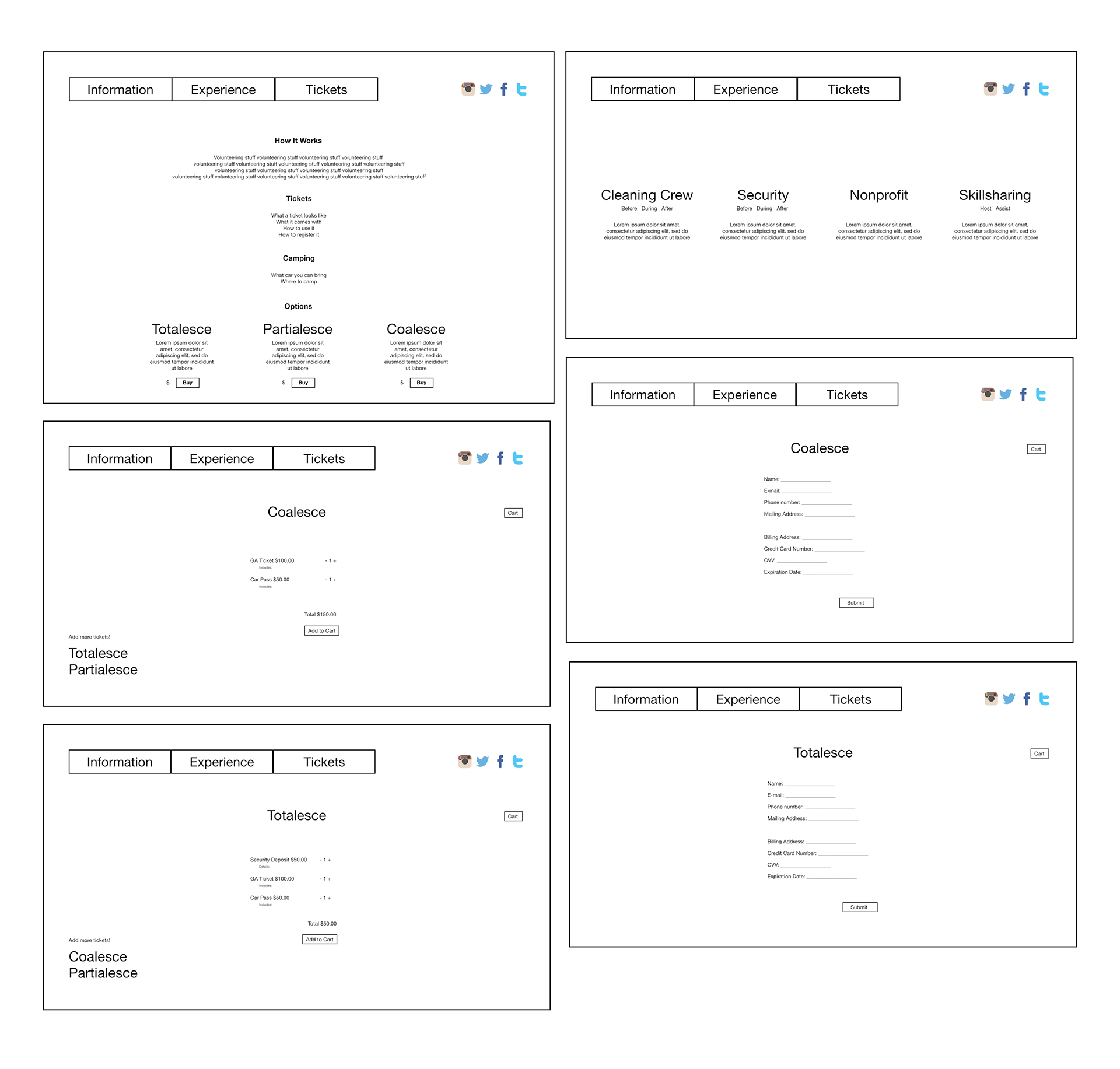 designing the website: hi-fi prototypes
I translated the wireframes and elements of the established identity into hi-fi prototypes. Every user testing session showed more things that could be bettered. I worked on reflecting on the feedback and implementing it into my prototype, changing anything from the design (clarity of words over images, left aligning text, clearer background pattern on top and bottom, etc.) to the navigation (simplified and easier to navigate forms, more upfront information about ticketing using tabs, clearer way to explain the volunteer process).
The most up to date version can be found
here
and at the top of the page. 
 Simplified ticketing page ↓
Feedback showed that the early version (left) had too much information. I broke up the sections into tabs to simplify the experience and keep users from getting overwhelmed (right)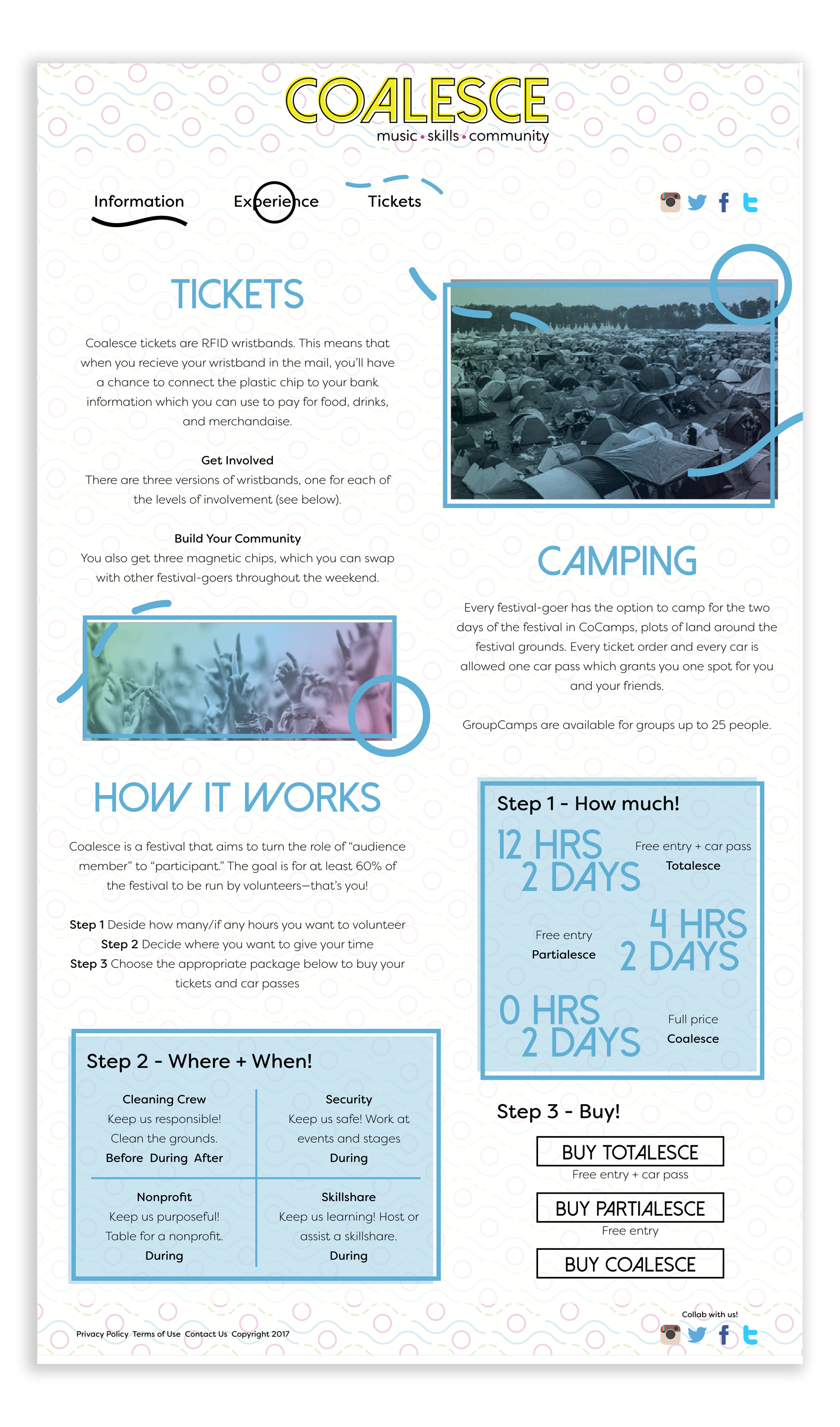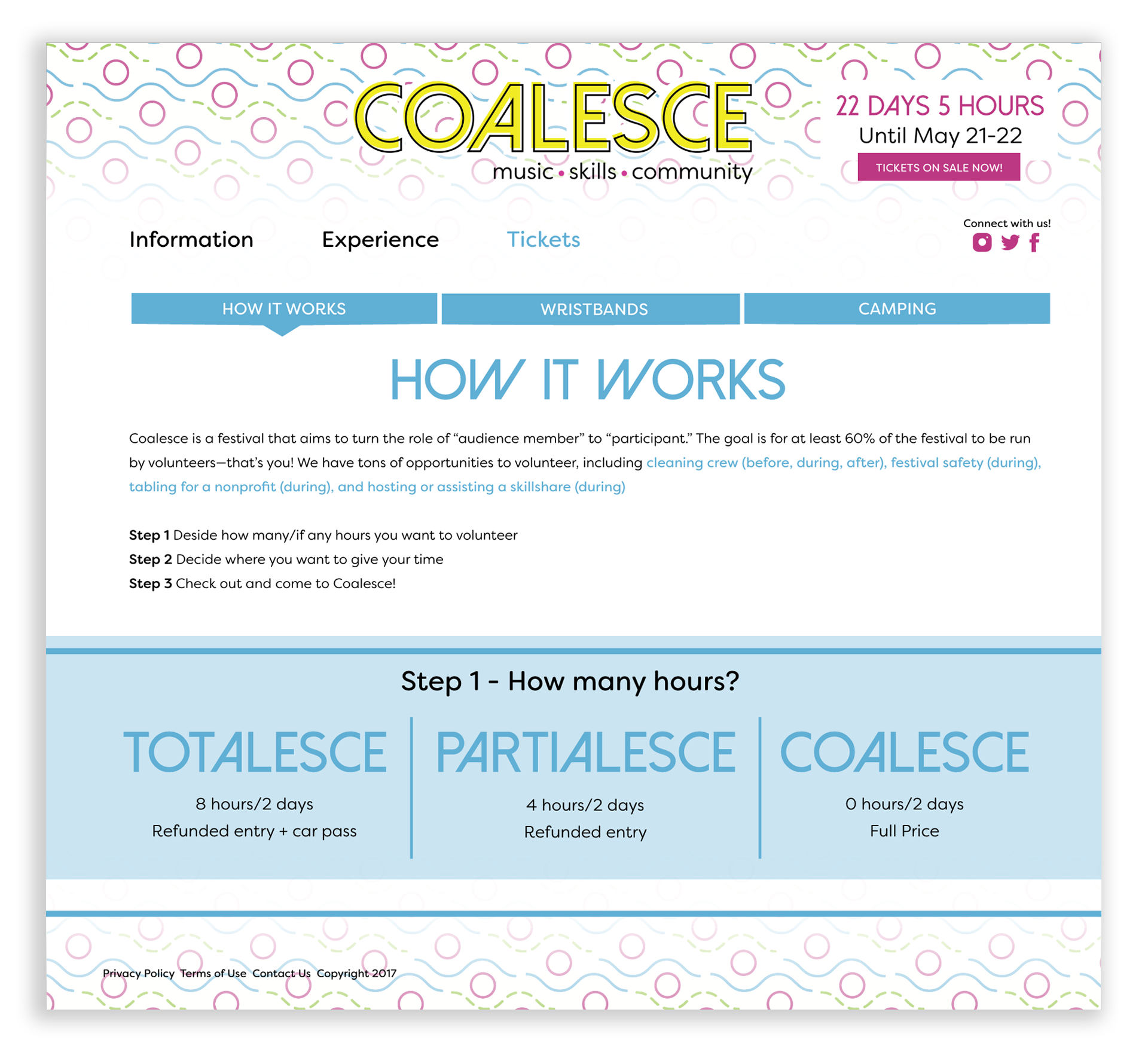 Homepage (left), artists page (middle), ticket buying page (right) ↓